Cytopathology Journal
The Official Journal of the British Association for Cytopathology and an Affiliated Journal of over 20 National Cytology Societies
Read Cytopathology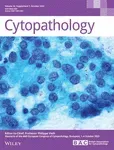 The aim of Cytopathology is to publish articles relating to those aspects of cytology which will increase our knowledge and understanding of the aetiology, diagnosis and management of human disease. It contains original articles and critical reviews on all aspects of clinical cytology in its broadest sense: including gynaecological and non-gynaecological cytology, fine needle aspiration and screening strategy. The Journal welcomes papers on ultrastructural, histochemical and immunocytochemical studies of the cell as well as articles on quantitative cytology and DNA hybridization as applied to cytological material.
Editorial policy reflects the interest of cytopathologists and cytotechnologists alike as well as the interests of clinicians using the cytology service. It also reflects the interest of biological scientists whose work involves research at the cellular level.
NOVEMBER 2023 EDITION OF CYTOPATHOLOGY

Having enjoyed September's Covid special issue, the November issue of Cytopathology introduces new topics that will form themes in several forthcoming issues. In their editorial, our editor-in-chief, Professor Vielh, and colleagues introduce the "Liquid Biopsy Series". This will be a series of review articles highlighting the role that measurement of circulating tumour DNA (ctDNA) and RNA can play in the management of patients with a range of cancers. As the editorial highlights, this can complement the use of traditional tissue and, as well as blood, there is the potential for supernatant from a range of cytology fluid samples to be used to detect tumour derived nucleic acids. The November issue presents the first in the series, a review by Alberto Ranghiero et al which explains in detail the methods and applications of ctDNA- based testing in breast cancer patients and how it can complement tissue testing, especially in this era of targeted cancer therapies. We can look forward to future articles exploring liquid biopsy in lymphoma and thoracic malignancies.
The terms "cytology" and "pitfall" often go hand in hand. In the first of two review articles by authors from Rome, focusing on pitfalls in cystic lesions, they address pitfalls to be avoided in salivary gland cysts. The review gives a comprehensive description of the wide range of cystic entities and emphasises the challenges, including frequent low cellularity and morphological similarities. They stress the importance of clinical and radiographic correlation and of distinguishing mucinous from non-mucinous acellular cystic samples. In the next issue, the same authors will continue the theme with a review tackling pitfalls in uncommon cystic lesions from the anterior head and neck (both now available on Early View).
November's issue also features a review by Micheal Stone et al which beautifully illustrates the cytomorphological and immunophenotypical features which can predict the underlying cytogenetic/genetic abnormalities in myeloid malignancies. This can provide helpful preliminary information to guide clinicians while awaiting results of genetic tests.
Original articles this month includes the editor's choice, a paper by Gloria Sura et al which investigates the effect of length of time that malignant effusions spend in refrigerator storage on subsequent RNA sequencing results. Other topics covered in original articles are fine needle aspiration of bone lesions, cytopathology of benign sebaceous salivary gland neoplasia, whole slide imaging in thyroid cytopathology, correlation of TIRADS and the Bethesda system for thyroid, and parathyroid hormone immunocytochemistry. There are, as usual, case reports and Enigma portal quizzes presenting a range of interesting and educational cytomorphology.
Finally, the first article in the November issue is an editorial Reducing the risks of nuclear war—the role of health professionals written by the editors of several high-profile medical journals and which is being published simultaneously in numerous journals worldwide, including Cytopathology. This sobering editorial is a plea to health professionals to alert the public that we are in a time of high nuclear danger which is posing a threat to human survival, and to urge action to prevent it.